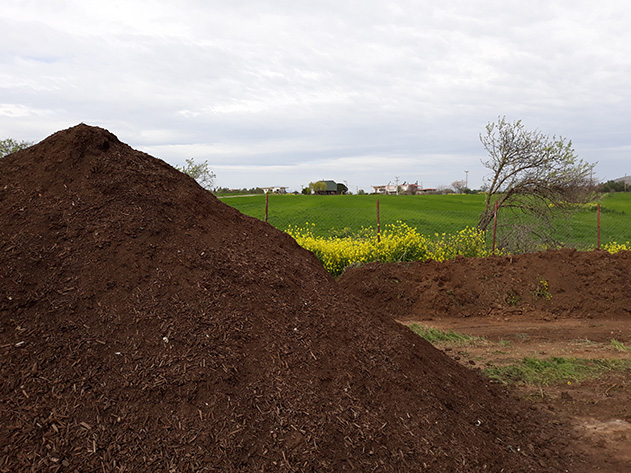 The company "New Land" produces organic fertilizer applying a strict monitoring of the waste as well as all stages of the production process. All products produced by our company comply with the standards of Greek and European legislation.
The variety of waste that enter the production process enables the production of organic fertilizer products with different physicochemical properties. These are, in turn, addressed to different end users, such as greenhouses, vegetable growers, producers of large crops, manufacturers of green works, etc.
Organic fertilizer is a stabilized organic product that has the unique ability to improve the physical, chemical and biological characteristics of the soil. More specifically:

The organic matter is an adhesive between the soil particles, which leads to the formation of agglomerates, thus improving the structure of the soil. This results in better ventilation and movement of water..
It helps retain moisture and acts as a regulator in soil temperature changes
It is an inhibitory agent in the effects of corrosion, surface runoff or rinsing of nutrients in deeper horizons.
The degradation of the added organic matter by the microorganisms leads to the gradual and long-term release of nutrients such as nitrogen (N), phosphorus (P), potassium (K), calcium (Ca), magnesium (Mg), boron (B), iron (Fe), copper (Cu) and zinc (Zn), giving the soil improved nutritional quality.
The root system of the plants grows better and benefits from a larger volume of soil which leads to improved nutrition.
The use of organic fertilizer in the soil reduces the presence of parasites and nematodes. It also helps suppress fungal infections. Plants grow to be more resistant to diseases, resulting in reduced use of pesticides.
Compared to simple manure, it is free of pathogens and releases nutrients into the soil for a longer period of time.
The continuous use of large quantities of chemical fertilizers is reduced.
Global research has shown that the use of organic fertilizer in agriculture has led to significantly increased crop yields.
In addition to the proven benefits of using organic fertilizer in soil and plants, its use as a soil conditioner / biofertilizer contributes to sustainability and ecology, as an immense amount of organic matter is recycled, instead of dumped in landfills, and all of its quality elements re-enter the biogeochemical cycle in the best possible way.