The fertilizer manufacturing plant ing plant "New Land" is located in VIOPA (industry park), "Kalimbaki" in Eleonas, Thebes. It consists of 7000 m2 of indoor area within a plot of 43 acres. It is a recognized organic waste management facility, that operates according to a strict quality management standard. The treatment of biodegradable residues of the food industry takes place indoors. The production of organic fertilizer amounts to 12,000 m3 per year.
The company policy is interconnected to:
- The protection of public health.
- The protection of the environment.
- The reduction of the amount of waste incinerated or deposited in landfills.
- Sustainable development in the agri-food sector.
- The production of quality compost.
The company's facilities include separate areas depending on the performed processes.
1. Receipt of raw materials
2. Sorting of recyclable materials
3. Preparation of the organic fraction
4. Network for the treatment of liquid secretions of the organic fraction
5. Processing of the organic fertilizer
6. Maturation of the organic fertilizer
7. Final Product Storage
8. Offices
9. Experimentation Area
10. Chemical laboratory
11. Experimental crops
Waste Management
The company "New Land" provides full services in the field of management, recycling and composting of organic waste.
Compost
Composting is the process which modifies organic residues into biologically stable humoral compounds, creating an excellent soil improver for crop production.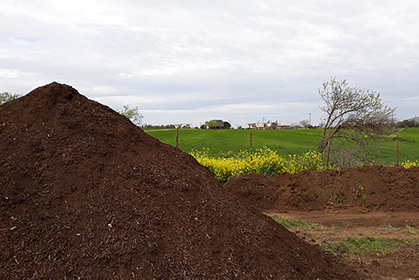 Organic Fertilizer
The company "New Land" produces organic fertilizer, while applying a strict controlled system to raw materials and throughout the production process.